How to Get Pregnant – Testimonials and Success Stories
Julie Stephens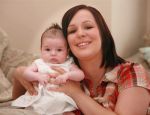 Julie Stephens had struggled for many years with endometriosis and was referred by her doctor to see a consultant due to the severity of her condition.
Julie and her husband had been trying for some time to become pregnant. Her visit to the consultant confirmed her worst fears that a hysterectomy was necessary to allow her to become pain free.  He also confirmed that pregnancy would be nearly impossible with her condition.
Dismayed at the probability of never becoming a mum at the age of 28 she found this unique information online and gave the simple methods a try.  Julie became pregnant after applying the information and as you can see Jessica arrived safely.
Julie said "I feel the luckiest mum in the world".
Kim & Husband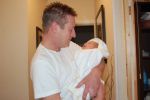 Kim and her husband (pictured) had been trying to conceive for ten years with two miscarriages, endless hormone injections and the heartache of failure.
Earlier last year, she and her husband were preparing to spend more than £20,000 on private IVF
(invitro fertilisation) treatment to help them realise their dream.
But in the end, Kim, 32, conceived naturally – because of this simple method.
"I came off the pill at 21 and was under the care of the hospital.
"They don't put you on the list for IVF until they've tried everything else.
"After seven years, they told me they would not treat me because they found out my husband had a son from his first marriage," she explained.
After doing some research on the internet, Kim decided to try private IVF treatment with a renowned infertility expert.
Meanwhile, Kim's boss had persuaded her to try this method.
"My husband poo-pooed it, but I went through with the technique. I was put through all different thought situations in the session" she recalled.
In March Kim underwent an internal procedure called a Hystoscopy as part of the preparation for starting IVF.
She was also due to have a scan, but her period was late and she was advised to carry out a pregnancy test.
"It was April Fool's Day and I was covered from head to toe in fake tan. When it came up positive, I was crying, with fake bake streaks down my face.
"I rang my husband, who didn't believe me.
"My mum got me a second test and it said positive."
The next day, an excited Kim travelled to London.
"I was expecting to be a maximum of two weeks pregnant, but the clinic told me I was six weeks.
"I had become pregnant on February 18, which was when I had first applied the methods.
Nicola 36 and her husband Dave 35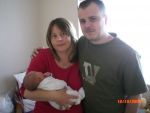 When Dave and I married we had already been together for 8 years.
A few months before our wedding we decided it was finally the right time to try for a baby so I stopped using contraception.
I'd always dreamed of having 4 children, it was just a matter of fitting them in to our lives, or so I thought. I had pregnancy tests at the ready,but month after month my period would arrive and our initial excitement started to dampen.
A year passed and I wasn't pregnant, so my GP sent me for blood tests and scans at the hospital.
I was told I had scar tissue outside of my fallopian tubes and ovaries and was explained my options.
Have an operation to remove the scarring or go straight on to the IVF waiting list. In my mind IVF was pretty much a last resort and I certainly wasn't ready to accept that I was at that stage.
After the initial shock, I opted for the surgery which had a 1 year waiting list compared to the 2 year wait for IVF. At this stage I was still really hopeful that I would become a mum without IVF.
Whilst waiting for the surgery I found out that I was pregnant, but before we even got the chance to celebrate I sadly miscarried at 12 weeks. Dave"s sister and I had become pregnant at the same time and our babies were due within a week of each other. She went on to have her beautiful baby and I was left with thoughts of what could have been. Six months after the operation I still wasn't pregnant and started to become really depressed.
It was heartbreaking watching women close to me falling pregnant and having their babies. I tried to be happy for them but all the time I was grieved that it wasn't us.
When I look back I remember those years were dominated by trips to and from the hospital,each appointment a confirmation that I was somehow lacking-failing. I took clomid for 3 months followed by 5 months of scans to monitor my ovulation. Then there was 6 months of fertility injections to stimulate my ovaries which meant we would have to have sex within hours of each injection. That didn't work so the next step was hysterosalpingogram (HSG test) which detected that my left fallopian tube was blocked. I finally felt that I was getting somewhere.They removed the scarring and found that the left fallopian tube needed to be removed.  At least once that was removed I would stand a better chance of becoming pregnant. The last 5 years had been difficult to say the least but I was not ready to give up.
I'd undergone a laparoscopy and was just coming around after the general anaesthetic and was still feeling woozy and feeling sore when the specialist came round to see me. She explained that they had removed my left fallopian tube as planned but during the procedure they found that my right fallopian tube wasn't working properly either.She then delivered the final blow, the words, it is highly unlikely that you will be able to conceive naturally…..All those years of heartbreak and I was back to where I started- having to go on the IVF waiting list. I broke down and cried my heart out for the baby I so desperately longed for.
I was totally devastated. I felt as though someone had ripped out every last shred of hope,and the last 5 years had been for nothing. A couple of weeks later Dave and I went over to his mum's and she mentioned she'd heard about a therapist who was pioneering a new approach to help couples diagnosed as infertile. Dave said it was a load of mumbo jumbo and I was only going to get my hopes up to be crushed again.  I know he was just trying to protect me from more heartache but I didn't have anything to lose? My only other option at this point was IVF which was 2 years away, so I took down the details and booked an appointment. Reef explained that the methods had been 99% successful with all of the women who had applied it and that they either had one session or simply read the information. He assured me that as long as it was biologically possible for me to have children the information could work for me and I could practice it in my own time as little or as much as I wanted.
Throughout the session I felt deeply relaxed as if I was watching a film of myself where I was pregnant. An hour later I left feeling calm and more positive than I had felt in years. I practiced the method every night for a few minutes before I would go to sleep.
It was February 14th,Valentine's Day, and my period was a few days late. I remember thinking I could do a test, it would be a great Valentine's day suprise. When it came back positive I just stared at the stick not sure whether to laugh or cry? I did two more tests just to make sure then almost screamed the house down. Dave was out so I put the pregnancy test in an envelope and left it on the bedside table while I popped out.  I sent him a text when I knew he would be home telling him to go and look at his Valentine's day suprise. It took a while to convince him that this was for real and yes- we were finally having our baby. There were tears of joy and sheer relief as we gradually shared the news with our friends and family. After six years desperately trying to conceive, I was finally going to become a mummy. I know all the tests and surgery were necessary for me to understand what was stopping me from becoming pregnant but I had so many tests, injections, pills and invasive procedures that it just kept confirming how difficult it was going to be to fall pregnant. After that session I felt refreshed and less stressed. Whether the IVF would have been successful or not, thankfully we will never know, I was pregnant within a couple of months after my appointment.
---
Lisa Burt, 31, lives in Dorset with fiancé Dom, 30, and is mum to Liam.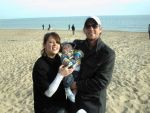 I'd had it all planned out in my head from ever since I can remember. I wanted to be married by the time I was 21 and have at least 3 kids, if not 4. I met Dom and fell head over heels when I was 21 and it didn't take either of us long to know that we were meant for each other. Our personal circumstances meant we had to wait almost four years before deciding to start trying for our first baby. For months after I came off the Pill I'd find myself daydreaming about being pregnant, how would I cope with labour, whether we'd have a boy or girl and what kind of parents we'd be – the normal stuff.
'Almost a year later I wasn't pregnant and my periods were scant so I started to question if something might be wrong. My doctor sent me off for blood tests which showed my hormone levels were low so I was referred to a specialist at the hospital. The tests made us both a little anxious but we expected at worst that I'd be prescribed a fertility drug to correct my hormone levels.
'We were called into an appointment with one of the fertility specialists to discuss the test results. He asked lots of questions about my cycle and then dropped the bombshell. My periods were light and irregular because I was going through early menopause and would need to start taking HRT immediately. I went into shock. I couldn't accept what he was saying – it didn't make any sense. "He must have got my results mixed up with someone else's," I thought, "I'm only 25." I felt sick to the stomach. When I looked over at Dom he had tears running down his face and it hit me that we might never have our own kids.
'Its hard to explain just how deeply devastated we were- it was like being told someone close to us had just died. We would spend hours talking, crying and comforting each other. The HRT tablets were a daily reminder that this wasn't just some bad dream I was going to wake up from. It was a really tough time for both of us. Having a family was something we so desperately wanted and now our most realistic option was egg donation.
'I sat my younger sister down and asked her if she would consider being my egg donor. She was the closest I was going to get to having my own baby. We paid to see a specialist to talk about egg donation and he threw up loads of scenarios we hadn't even thought about. What if my sister was my egg donor but later couldn't have kids of her own? Would that change how she or we felt about our baby? What would we tell our baby when she grew up and if so how might that affect our relationships? We left the appointment knowing it would take some time to make any serious decisions.
'We tried to get through each day as best as we could but everywhere you turned you'd see reminders of what had been taken away from us.
Then, out of the blue, I got a call from a friend who knew our situation. He told me he had the number of a local therapist who was helping women who were struggling to get pregnant. He didn't know the ins and outs of what he did but passed on the number. I talked it over with Dom that night. "What's the point?" I said, "Its not like he can stop me going through the menopause is it?" But Dom gently encouraged me to at least give it a try – as he pointed out – we didn't have anything left to lose.
'I made an appointment to speak to Reef after a brief chat with him on the phone. During the session he made me feel at ease and I found the methods  simple and easy to follow. At the end he explained that he was more than happy for me to contact him again if I got home and was unsure about how to practice by myself. I joked that if I fell pregnant I would get back to him – I wasn't expecting any miracles. I practiced the methods every now and then but pretty much put it to the back of my mind.
'About 5 months later we'd returned from a really relaxing holiday but as we were unpacking that evening I moaned to Dom that my belly felt really bloated and uncomfortable. I thought it might be some side-effects from the HRT tablets or maybe just that I was constipated. We were lying in bed the next morning when I showed Dom my belly. He put his hand on it and said, "Lisa, do you think you could be pregnant?" I was taken aback at first. "Don't be silly," I said gently, "it's probably just constipation." But the more I looked at my swollen belly and thought about what he'd just said the more it seemed possible. We rushed out of the house and went to buy a pregnancy test from our local Tesco's. Dom went to use the men's toilets while I went to the ladies to pee on the stick.
'I went out to meet him just outside the toilets. People were rushing around doing their shopping while I stood there with my hand shaking showing him the pregnancy test. "Oh my god – look at this!" I showed him the test and we just stared at it. I couldn't get my head round it so I rushed off and bought another one and went back in the ladies. This time we sat outside on the bench building up the courage to look at the second test. It was positive. Dom was so excited and happy while I kept repeating, "I'm pregnant. I'm pregnant. I'm pregnant!"
'We agreed to not tell anyone until it was confirmed by a doctor which was bloody hard because it was the weekend and we were seeing our families. First thing Monday morning I went to see my doctor who knew both me and Dom and all my fertility history. He asked me to lie down so he could examine my belly. He felt round it and listened with his stethoscope and then with the biggest smile said, "you'll be pleased to know you're almost 5 months pregnant!" He let me listen to the baby's heartbeat and as soon as I heard it I burst into tears – I was over the moon. I rang Dom straight away and we were both crying and laughing down the phone.
'I rang to tell my mum that we wanted to pop over later to share some exciting news – she told me afterwards she thought Dom had proposed. When I told her I was pregnant she rushed over and gave me the biggest hug and we all had a good cry.
"I can't imagine our lives without Liam – he really is our miracle baby. Becoming a mum is something I took for granted and I know how close I came to not having my own baby. I don't know how the methods worked but it did and for that I am forever grateful. I recommended Reef to a friend who had polycystic ovaries and was struggling to get pregnant and she fell pregnant a month later."
"I get asked all the time, by people who don't know what I went through, when I'm having my second child. I just smile and agree that I shouldn't leave too much of an age gap, inside I'm thinking, "You don't know the half of it!"
---
Gemma, 29, and fiancé Richard 43, is now mum to 10 month old Benjamin.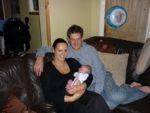 'Imagine being told, at the age of 18, that you'll need to have IVF to have kids. For me, sat in the doctors' room with my mum, it was as if the bottom of my world had fallen through. Its not that I was planning to have kids anytime soon but I'd grown up in a huge family and knew I definitely wanted a big family myself. My mum was crying her eyes out but I couldn't really show any emotion – it was so much to take in. I hadn't worried too much about the fact that I'd only ever had one period but the scan had shown I had polycystic ovaries and wasn't ovulating.
'I bottled up my feelings and didn't really talk to anyone about it unless I'd been out and had too much to drink. Those nights would usually end with me in tears, crying my heart out. Other girls my age were busy worrying about boys, clothes and dieting while I worried whether I would ever get to be a mum. I felt like I had to grow up a lot quicker than some of my friends.
'On top of all that I had the whole 'when do I mention it to my boyfriend' dilemma. Too early in the relationship would probably send him running. Too late would look like I had hidden it deliberately and then he would probably leave anyway. It was a tricky one. It doesn't really surprise me, when I look back at my relationships, that every boyfriend had already had children from previous relationships. I didn't realise it at the time but the fact that they were already dads meant it took some of the pressure off me.
Then, 6 years ago I met 'the one', Richard, and I knew I had to tell him early in the relationship. He was great about it and said he would support me all the way. A year after we met we decided it was time to speak to the doctors to get the ball rolling in case we had to wait years on the waiting lists. We were told we could go straight for an IVF cycle or I could try a fertility drug in the meantime. The fact that Richard was already a father to two kids from a previous relationship meant we wouldn't qualify on the NHS. At around £5000 for an IVF cycle I couldn't see how we were going to afford it. We didn't have any savings and I knew at best we would have probably only been able to afford one cycle. One chance to have a baby. I was devastated.
I knew having IVF was going to put a strain on our relationship – financially and emotionally. I'd have mood swings and lash out at Richard when really I was blaming myself and my body for failing.
'Another year had passed and we still didn't have enough money for the IVF, I was at work, feeling really low, when I confided to a work colleague about my infertility. She mentioned that her husband had developed a technique that was successfully helping lots of infertile women to conceive naturally. He'd treated women with endometriosis, damaged fallopian tubes and polycystic ovaries – so I was intrigued and hopeful.
'A friend of mine bought me the guide as an early Christmas present and by the end of January 2010 I was pregnant! I didn't actually know I was pregnant until I was 10 weeks gone as I wasn't having any periods. Its only when my breasts became noticeably sore that I thought I should do a test. Reef completely changed my life. As soon as I held our beautiful little boy, Benjamin, in my arms, all those years of anguish and stress just melted away. I was born to be a mum and I'm so thankful that I was given that chance. I know all too well that if it wasn't for Reefs methods we would still be saving up for one gamble with IVF.
Rachel says~ I had been trying to become pregnant for many years with no success. I came across this information online. I applied the methods and have just found out that I am pregnant. I would like to thank you so much for all your help and support that you gave me.
Emma says ~I spoke to Reef last year as I was having trouble getting pregnant. Anyway I did get pregnant a few months later, and 9 weeks ago gave birth to a baby girl (as wanted)!! I haven't had a chance to let you know and thank you sooner for creating these unique methods.
Jamie the fireman says
I met Reef by chance one morning and we somehow managed to get onto the subject of my wife and I not being able to become pregnant. Reef offered me the chance to experience a new approach to becoming pregnant that he had been working on and gave me the information to practice with my wife.  After 6 weeks of reading the methods every night my wife became pregnant. We can not believe how simple and effective these methods are.
Many many thanks for this priceless information.